About conference
Allied Academies Conferences
ALLIED ACADEMIES every year hosts interdisciplinary international conferences worldwide on cutting-edge basic and applied research in life sciences, Pharma, medicine, healthcare and nursing delivered by the best talents in industry and academia. Our conferences are oriented to drive the scientific community at large, facilitating access to the newest technical and scientific achievements and to shape future research directions through the publication of applied and theoretical research findings of the highest quality.
Welcome message
Allied Academic invites all the participants from all over the world to attend "International Conference & Exhibition on Tissue Engineering and Biobanking" during April 23-24,2018 Las Vegas,Nevada,USA which includes prompt keynote presentations, Oral talks, Poster presentations and Exhibitions.
Biobanking-2018 on behalf of its organizing Committee welcomes all the stem cell technologists, researchers, industrialists, young scientists as well as student and corporate delegates to participate and to have a great experience. The theme of the conference of Biobanking is based on "Acquire Innovative Strategies in Biobanking with Evolving Evidence and New Technologies". During Biobanking conferences, the International symposiums, B2B meetings, international workshops will also be organized to discuss the specific topics in the field of Stem cell technology. The conference also welcomes International exhibitions form corporate sectors to showcase the recent advancements in the tools and techniques. The conference also welcomes International exhibitions form corporate sectors to showcase the recent advancements in tools and techniques.
Why to attend???
With members from around the world focused on learning about Biobanking and its advances; this is your best opportunity to reach the largest assemblage of participants from the Tissue preservation and Biobanking community. Conduct presentations, distribute information, meet with current and potential scientists, make a splash with new drug developments, and receive name recognition at this 2-day event. World-renowned speakers, the most recent techniques, developments, and the newest updates in Biobanking are hallmarks of this conference.
Target Audience:
Biobanking Researchers

Biobanking Faculty

Medical Colleges

Biobanking Associations and Societies

Business Entrepreneurs

Training Institutes

Cryo storage Companies

Data Management Companies

Global Biobanking Companies

Biobanking investors
Custom Message 1
Sessions/Tracks
A cell bank is a facility that stores cells of specific genome for the purpose of future use in a product or medicinal needs. They often contain expansive amounts of base cell material that can be utilized for various projects.
A tissue bank is an establishment that collects and recovers human cadaver tissue for the purposes of medical research and education. A tissue bank may also refer to a location where biomedical tissue is stored under cryogenic conditions, and is generally used in a more clinical sense.

Cell and Tissue Banking provides a forum for disseminating information to scientists and clinicians involved in the banking and transplantation of cells and tissues. Cell and Tissue Banking is an international, peer-reviewed journal that publishes original papers in such areas as quality assurance and control of banked cells and tissues; preservation and sterilization methods; clinical applications of banked cells and tissues; standards of practice in procurement, processing, storage and distribution; and ethical and medico-legal issues. Research is presented in the form of full-length papers describing original work; short communications for rapid publication; and mini- and full-length reviews of topical issues.
It is a procedure where organelles, cells, tissues, extracellular network, organs or some other natural develops defenseless to harm caused by unregulated synthetic energy are safeguarded by cooling to low temperatues (commonly ?80 °C utilizing strong carbon dioxide or ?196 °C utilizing fluid nitrogen). At sufficiently low temperatures, any enzymatic or substance action which may make harm the material being referred to is adequately ceased. Cryopreservation strategies look to achieve low temperatures without causing extra harm caused by the development of ice amid solidifying. Conventional cryopreservation has depended on covering the material to be solidified with a class of particles named cryoprotectants. New strategies are always being explored because of the innate poisonous quality of numerous cryoprotectants.
Blood banking means a place where blood are preserved for future use. It is preserved in plastic bag and stored in cool place.
Blood donation means voluntarily blood drawn from a person and used for transfusion,which can also be used for future use.
Biobanking is a necessary tool to produce access to top quality human biomaterial for basic and travel analysis. analysis for rare disorders advantages from the supply of human biomaterials through biobanks, and every human sample from an individual with a rare disorder incorporates a high worth because it could hold the key to answer a crucial analysis question. international cooperation in biobanking is a crucial catalyst to share restricted resources and come through best outcomes as in different areas of rare disorder analysis.
Bio-repository and Biospecimen:
Biorepository a biological material which helps in supporting future scientific investigation by collecting,processing,storing and distributing biospecimens. From animals including humans and many other living organisms it manages specimens.Examples can be like vertebrates,invertebrates,arthopods and other life-forms etc can be studied by preserving and storing samples
Samples of material, such as urine, blood, tissue, cells, DNA, RNA, and protein from humans, animals, or plants. Biospecimens are stored in a biorepository and are used for laboratory research.
Millions of biological samples, as well as cells of human, animal or microorganism origin, viruses, serum/plasma or DNA/RNA, square measure hold on each year throughout the globe for nosology and analysis. the aim of this review is to summarize the resources necessary to line up a biobanking facility, the challenges and pitfalls of sample assortment, and therefore the most vital techniques for separation and storage of samples. Biological samples are often hold on for up to thirty years, however specific protocols square measure needed to cut back the harm induced by preservation techniques.

Fertility Preservation:
Its an effort to help cancer patients so that they can retain their fertility or ability to make analysis.Generative health and preservation choices square measure growing affects by cancer and which is being highlighted by the increased rate of surviving of cancer patients.Egg or sperm cell can be used by patients from a donor instead of having biological youngsters.
Human Cancer Biobank:
The Cancer Human Biobank (caHUB) could be a BBRB induced system that finishes specific biospecimen and knowledge acquisitions to strengthen biospecimen science works out. The caHUB framework involves the going with sections Bio examples supply Sites (BSSs) ar relationship, for example, perceptive remedial concentrates, fast once death examination centers, and organ securing affiliations, that get tireless consent, get cases, and watercraft them to at least one of various endeavor areas. the excellent Bio examples Resource (CBR) could be a consolidated website that hoards amassing and transportation packs, gets most bio samples from the BSSs for taking care of and limit, and water crafts bio examples from the BSSs to the make preparations and examination workplaces. The cosmic background radiation furthermore makes H&E fragments from FFPE squares and conveys propelled photos of those regions. the excellent knowledge Resource (CDR) could be a focused knowledge storage room that secures patient and illustration knowledge from BSSs and different endeavor areas that handle and examinations tests. The Pathology Resource Center (PRC) is a briefing of board declared pathologists UN agency review H&E sections from caHUB assembled samples as a high quality management live furthermore offer explicit bearing to caHUB Bio example's gatherings.

It functions as as the knowledge hub for an integrated translational and clinical reasearch ecosystem other than supporting operational activities. Even the benefits of well annotated patients can be reaped by the approach of this next generation biobanking along with sample database that supports precision medicine, clinical trials, translational research, and patient registation.
Stem Cell Biomarkers:
A biomarker, or organic marker, is characterized as a "cell, biochemical or sub-atomic change in cells, tissues or liquids that can be measured and assessed to show ordinary organic procedures, pathogenic procedures, or pharmacological reactions to a helpful mediation." Biomarkers portray ailment movement beginning from the most punctual normal history of the infection. Biomarkers survey infection vulnerability and seriousness, which enables one to foresee results, decide mediations and assess helpful reactions. From a criminology and epidemiologic point of view, biomarkers offer interesting understanding about the connections between natural hazard factors.

Stem Cell Niches:

Undifferentiated organism specialty alludes to a microenvironment, inside the particular anatomic area where foundational microorganisms are discovered, which interfaces with undeveloped cells to direct cell destiny. "Niche" can be in reference to the in vivo or in vitro foundational microorganism microenvironment.


Biobank Ethics:
Moral issues are usually present in numerous parts of Biobanking. The way that Biobanks manage human specimens, attacking an individual self-rule or restricting poise, incites various moral issues. Who is really equipped to give educated assent and give an example? At the point when people give some portion of their body to a biobank, how could that be human specimen prepared? Who is the proprietor of the example? Who ought to choose how it ought to be utilized? Who has the privilege to know singular consequences of research? These and numerous more moral predicaments exist in the moral structure of biobanks. With the current fast advancements in biobanking, these issues are amplified with a lot of further new inquiries ceaselessly emerging. Moral structure has been the most disputable issue in the space of biobanking. Along these lines, it is not amazing that there is a generous writing concentrating on moral quandaries in biobanking, for example, educated assent, security, assurance, and returning of results to members. For a long time, analysts at CRB have given helpful exhortation on the best way to manage moral parts of research utilizing human tissue material and individual information.
Neuro Biobank:
It is a national asset for agents using human posthumous mind tissue and associated biospecimens for his or her examination to get a handle on states of the framework. It serves to is a focal motivation behind access to world class accumulations of six Biorepositories and moreover furnishes analysisers with an abundance of assets to encourage their exploration.

Vitrification:
"Vitrification" originates from the Latin expression for glass, vitrum. With regards to solidifying eggs and developing lives, vitrification is the way toward solidifying so quickly that that the water particles don't have room schedule-wise to shape ice gems, and rather promptly harden into a glass-like structure. It's a significantly more entangled practice than past "moderate solidifying" techniques, and it has yielded great outcomes. At present, pregnancy achievement rates from vitrification are practically identical to new IVF cycles, an accomplishment that has just been acknowledged in the previous quite a while.
Role of Biobank in Genomics & Personalised Medicine:
Biobanks are important assets in genomic research of both the irresistible ailments and their hosts. Research distinguishes potential fields of collaboration between irresistible infection genomics and biobanks, in accordance with worldwide patterns in the reconciliation of genome-based information into clinical practice. It likewise looks at different systems and biobanks that represent considerable authority in irresistible maladies (counting HIV, HPV and Chlamydia trachomatis), and gives cases of effective research and clinical take-up originating from these biobanks. At long last, it diagrams key issues as for information security in irresistible sickness genomics, and also the utility of satisfactorily planned and kept up electronic wellbeing records
The most up to date era of biobanks is advancing with an expanded concentrate on customized drug – notwithstanding giving access to biosamples they additionally offer access to approved medicinal records, genomic information and certain patient statistic data
Custom Message 2
Allied Academies Conferences:-
ALLIED ACADEMIES every year hosts interdisciplinary international conferences worldwide on cutting-edge basic and applied research in life sciences, Pharma, medicine, healthcare and nursing delivered by the best talents in industry and academia. Our conferences are oriented to drive the scientific community at large, facilitating access to the newest technical and scientific achievements and to shape future research directions through the publication of applied and theoretical research findings of the highest quality.
Importance and Scope:-
Biobanking refers to the process by which samples of bodily fluid or tissue are collected for research use to improve our understanding of health and disease. Other information, such as height, weight and questions about things that may have a bearing on health (e.g. family history and lifestyle) may also be recorded at the same time, to provide the context for the samples. Often the samples are kept indefinitely or for several years, depending on the study, so that long term future research can be carried out. Biobanks collect, catalogue and store biological samples and associated clinical data. The specimens and data are collected from patients who are part of epidemiology studies or clinical trials, individual laboratory research studies, or who have agreed to be part of a patient cohort. Samples and information are only obtained with the informed consent of the patient.
Several trends in the biobanks development are now becoming visible. A tendency of converting biobanks into the cohort-based studies or at least follow-up studies is becoming increasingly more prevalent. One such initiative is BBMRI-LPC (Biobanking and Biomolecular Research Infrastructure – Large Prospective Cohorts;which aims to strengthen, harmonize, and link together longitudinal biobanks in Europe. The clear advantage of this approach resides in the time-related exposures and the possibility to predict end-outcomes based on the individual genetic make-up. This example also shows an inherent need to harmonize and enable cooperation of biobanks, thus producing competitive joint resources for biomedical research.
In conclusion, it seems that biobanks of the future will have to provide participative conditions and become more oriented toward the population they are sampling. In turn, target populations should have indirect (overall research advantages) and direct benefits from the biobanks, in the form of better understanding of health determinants in a specific population (49). The best possible scenario, especially in the small and isolated populations, is development of targeted preventive activities, based on the results originating from the biobanks development. This process should be closely aligned with health care system activities, which should also provide existing morbidity and mortality data for better utilization of biobanks. All these premises suggest that biobanks should become and remain adaptive and be constantly developing new approaches and new ideas. Despite numerous uncertainties, it seems very likely that the biobanks of the future will become bigger in size, longer in duration, and that the phenotyping focus will include increasing dimensionality, in the form of more complex, repeated, or life-long measurements, as well as the possibility to investigate environmental influences on health and disease.
Conference Highlights:-
Ø Bio-repository and Biospecimen
Ø Vitrification,Role of Biobank in Genomics & Personalised Medicine.
Target Audiences:-
· Bio banking Researchers
· Biobanking Faculty
· Medical Colleges
· Biobanking Associations and Societies
· Business Entrepreneurs
· Training Institutes
· Cryo storage Companies,Data Management Companies
· Global Biobanking Companies
· Biobanking investors.
Conference and the City:-
Biobanks are collections of human biological tissue specimens and related health data. Biobank research hopes to provide novel insights into the genetic component of disease, ultimately leading to a more personalized approach to healthcare.
Las Vegas, Nevada, includes top universities which teaches about stem cell, tissue engineering also comprises of researches .Thus for the conferences its quite easy to have professors related to this field as they are the main people of the conference. Last but not the least, Las Vegas, is also attractive for tourists visiting and participating in the conference.
Thus, Las Vegas can be choosed as one of the bestest venue to hold conferences like "Biobank"
Advancements:-
One of the major outcomes of the Human Genome Project (HGP) is the advancement of biobanks, which are collections of biospecimens from patients and volunteer donors combined with their personal information, clinico-pathological features and even research data . In the post-genomic era, biospecimen collection is becoming the main mechanism of delivering personalized diagnostics and tailored individualized therapeutics. Therefore, biobanks are considered the primary resource that will help shape the future of human health through precision medicine (PM). Briefly, PM can be defined as the right treatment for the right patient at the right time, every time. To be implemented efficiently, PM relies mainly on elucidating the dynamic interplay between the environment (living, non-living), lifestyle and social well-being and an individual's genomic make up in both health and disease status. Therefore, improving our understanding of the environment and lifestyle components, their digitalization, and especially assessing their contribution either a prevention or risk factor is crucial to developing customized disease-specific and/or public health strategies. Therefore, implementing standard operating procedures (SOPs) for sampling, collecting and processing biospecimens as well as considering the related bioethics and principles of responsible data sharing are thus paramount to attaining effective prevention and PM.
Biobank In Las Vegas:-
Genomic science represents a new frontier for health research and will provide important tools for personalizing health care. Biospecimen-based research is an important mechanism for expanding the genomic research capacity, and indigenous peoples are a target of biospecimen-based research due to their relative isolation and the potential to discover rare or unique genotypes. This study explored Native Las Vegasian perceptions of and expectations for biobanking. Considered together, these findings suggest that biobanking should be guided by six principles that comprise "G.R.E.A.T. Research:" (Governance, Re-consent, Education, Accountability, Transparency, Research priorities). These recommendations are being shared with biobanking facilities in Las Vegas as they develop protocols for biobanking participation, governance, and education. These findings also inform researchers and indigenous peoples throughout the world who are working on biobanking and genomic research initiatives in their nations.
Technical Advancements:-
According to the report, advancement in technology in the field of personalized medicine is one of the major contributors to the growth of the market. Personalized medicine allows drugs to be developed according to the genetic makeup of a person. Biobanks store the data related to a person's genetic characteristics, which can be accessed by the scientist for research and drug discovery.
Global Biobank Market Analysis:-
Technological advancements, introduction of innovative methods, and massive population base of the emerging economies such as China and India, will present substantial opportunities to the global market for biobanks.
A biobank is a storage bank for biological samples, such as blood, DNA, human tissue, that are used for medical research purposes, in order to find new treatments for diseases. Biobanks play a significant role in biomedical research. They aid in the determination of the general and unique features of the continuous cell line and whether contaminants are present or not, thereby aiding in the analysis of the raw materials from which a biological product is derived. The genetic and other traits such as gender, age, ethnicity, and blood type of the specimens are catalogued by a biobank.
The global market for biobanks was pegged at USD 142 mn in 2011. It is expected to grow at a CAGR of 5.4% during the forecast period 2011-2018, attaining a revenue worth USD 216.3 mn by the end of 2018.
Global Biobanks Market: Regional Analysis
Based on geography, the global market for biobanks can be segmented into Europe, North America, Asia Pacific, and the Rest of the World. North America presently leads the global market for biobanks, closely followed by Europe. The prominence of these regions can be attributed to the increasing incidence of chronic diseases, the imperative need to find effective treatments for them, large amounts of government investments in the area of biobanks, and growing number of research activities, together with drug discovery in the region.
Asia Pacific is projected to exhibit considerable growth over the next few years. The factors responsible for the emergence of numerous opportunities in this region include gradually increasing investments from government and non-government institutions, growing understanding about the concept of biobanks, and ever-increasing population of countries such as Indi and China.
Growing demographics and economies in the developing countries such as India and China, technological advancement and new innovate techniques are expected to offer good opportunities in the global biobanks market. Stability issue and tissue injury during freezing are a challenge for biobanks market. Virtual biobanks and green banking for energy efficiency are some of the key trends that have been observed in global biobanks market. In addition, new product launches, increasing number of mergers and acquisitions and increasing number of collaborations and partnerships among the market players are some of the trends have been observed in global biobanks market. Some of the major companies operating in the global biobanks market are BioCision, Thermo Fisher Scientific Inc., Tecan AG, Beckman Coulter, Inc., BioLife Solutions, Inc., Panasonic Biomedical Sales Europe B.V., Taylor-Wharton International LLC, VWR International, LLC and So-Low Environmental Equipment Co.
Annual Growth:-
The global biobanking market was USD 142 million in 2011 and it is forecasted that this market will reach USD 216.3 million in 2018 with the compound annual growth rate of 5.4 % from 2011 – 2018. Moreover, the biobanking market witnessed an increased trend of mergers and acquisitions among vendors. This summit will address the latest developments in biobanking from its discovery to commercialization. It is one of the most important opportunities, where you will explore your business potential in biobanking. The U.S and Europe have the largest market size in biobanks. However, the rapid growth in population in Asia Pacific countries will affect the market of the developed countries.
USA Major Universities which deals with Stem Cell Research:-
1. University of Washington/Hutchinson Cancer Center
2. Oregon Stem Cell Center
3. University of California Davis
4. University of California San Francisco
5. University of California Berkeley
Major Stem Cell Organization Worldwide:-
1) Norwegian Center for Stem Cell
2) Research France I-stem
3) Stem Cell & Regenerative Medicine Ctr, Beijing
4) Stem Cell Research Centre, Korea
5) NSW Stem Cell Network
6) Monash University of Stem Cell Labs
7) Australian Stem Cell Centre
Stem Cell Market Value:-
Worldwide many companies are developing and marketing specialized cell culture media, cell separation products, instruments and other reagents for life sciences research. We are providing a unique platform for the researches and development of the market.
Fig: 2016 Marksheet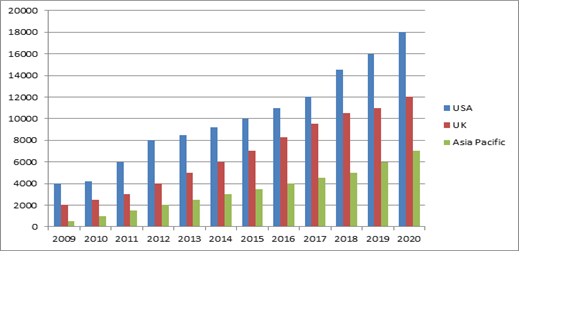 Fig. Global Tissue Engineering & Stem Cell Therapy Market, By Region, 2009 2018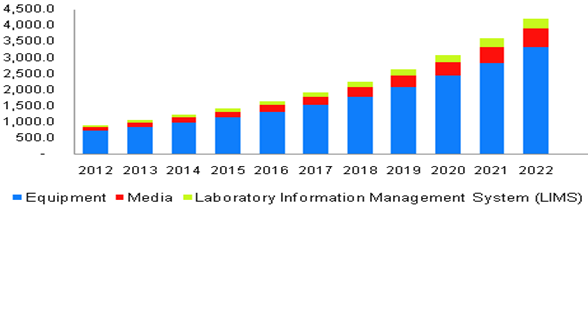 Fig:-Market Analysis of Biobank in USA